Organic olive farm project in Turkey
Yeni Sakran, İzmir, Turkey
Volunteer Opportunity posted by CADIP on May 5, 2016
Go to our website www.cadip.org for more info and click on "Join now!" to fill out the online application form.
☎ USA: 646-657-2900; 617-841-0400; 310-882-7400
☎ Canada: 416-943-4900; 514-316-8500; 604-628-7400
The Youth Center in Yeni Sakran is a place where programs and activities are organized for disadvantaged youth and children, disabled people, teenagers and kids. In order to supply the annual olive and olive oil stocks, the center will host volunteers to pick up and process olives from a municipal field.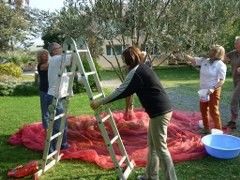 Volunteers will collect olives from the trees, separate according to quality, pack, make stripes on olives, etc. There is a chance to see olive oil making process in a factory. As the youth center will be shut after this project, the volunteers will be asked to help move some goods and do some cleaning work as well, as part of their daily work.
Location: Yeni Sakran is by the Aegean Sea, in west of Turkey. The next city is Izmir.
Project dates: November 1 - November 8, 2016
More information and enrollment: www.cadip.org/volunteer-in-turkey
Areas of focus:
Environment , Sports and recreation , International relations , Volunteering , Family , International cooperation , Poverty and hunger , Health and medicine , Community development , Education , , , , , , , ,
Yeni Sakran, İzmir, Turkey
Start and end dates:

November 1 - November 8, 2016

Duration:

Less than 3 months

Time commitment:

A lot (10+ hours/week)

Times of day:

Mornings

Afternoons

Days of week:

Weekdays
International volunteer options:

International volunteers welcome
Areas of focus:
Environment , Sports and recreation , International relations , Volunteering , Family , International cooperation , Poverty and hunger , Health and medicine , Community development , Education , , , , , , , ,
---