Awareness campaigns in Leon, Mexico
Leon, Estado de Guanajuato, Mexico
Volunteer Opportunity posted by CADIP on April 27, 2016
Please visit www.cadip.org for more information.
Call in USA: 646-657-2900; 617-841-0400; 310-882-7400
Call in Canada: 416-943-4900; 514-316-8500; 604-628-7400
It is intended that volunteers implement an awareness campaign on different topics, such as social and environmental issues, including bullying, tolerance and care for the environment. This project will take place within a local university, with the participation of educational advisors and university students who will develop workshops, dynamics and guided tours with the volunteers to promote a multicultural environment.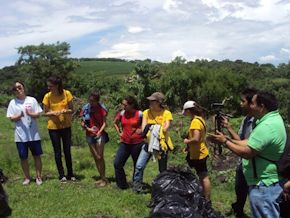 To encourage the campaigns, several activities are planned. Volunteers will have a welcome cocktail so they can meet and interact with the university community. Advisors will lead workshops and dynamics to promote a multicultural environment of tolerance, respect and care for the environment. The volunteers will implement a campaign to encourage students about the importance of internationalization and develop skills in a second or third language.
Various tours around the most important spots of the region will be organized. There will be also an international night to exchange traditions and culture. The Mexican night will be an event with music, dance and Mexican cuisine.
Project dates: August 17 - August 30, 2016
For more information, please visit www.cadip.org/volunteer-in-mexico
CADIP International Volunteer Program: www.cadip.org
Areas of focus:
Environment , Sports and recreation , International relations , Volunteering , Family , International cooperation , Poverty and hunger , Health and medicine , Community development , Education , , , , , , , ,
Leon, Estado de Guanajuato, Mexico
Start and end dates:

August 17 - August 30, 2016

Duration:

Less than 3 months

Time commitment:

Full time (30-40 hours/week)
International volunteer options:

International volunteers welcome
Thinking about grad school?
Idealist Grad Fairs are coming to a city near you!
Areas of focus:
Environment , Sports and recreation , International relations , Volunteering , Family , International cooperation , Poverty and hunger , Health and medicine , Community development , Education , , , , , , , ,
---