Protecting the bird habitat at the Red River delta in Turkey
Volunteer Opportunity posted by CADIP on May 3, 2016
Go to our website www.cadip.org for more info and click on "Join now!" to fill out the online application form.
☎ USA: 646-657-2900; 617-841-0400; 310-882-7400
☎ Canada: 416-943-4900; 514-316-8500; 604-628-7400
The delta of Turkey's longest river Kizilirmak (Red River) lays by the Black Sea coast and hosts 350 different bird speices. The area is very large and some parts are polluted by waste stuff like plastics, metals, etc.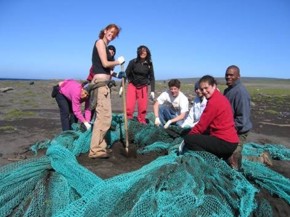 International volunteers will work together with 10 local young people for collecting waste materials, bird watching and counting, helping to heal wounded birds, landscaping and helping the staff of the center in their daily tasks.
This is a very nice project for nature lovers. We need volunteers who are really enthusiastic, patient and team players.
Project dates: July 25 - August 8, 2016
More information and enrollment: www.cadip.org/volunteer-in-turkey

Areas of focus:
Environment , Sports and recreation , International relations , Volunteering , Family , International cooperation , Poverty and hunger , Health and medicine , Community development , Education , , , , , , , ,
Start and end dates:

July 25 - August 8, 2016

Duration:

Less than 3 months

Time commitment:

A lot (10+ hours/week)

Times of day:

Mornings

Afternoons

Days of week:

Weekdays
International volunteer options:

International volunteers welcome
Thinking about grad school?
Idealist Grad Fairs are coming to a city near you!
Areas of focus:
Environment , Sports and recreation , International relations , Volunteering , Family , International cooperation , Poverty and hunger , Health and medicine , Community development , Education , , , , , , , ,
---