Organizing summer camp for children in Jebha, Morocco
Jebha, Région de Tanger-Tétouan, Morocco
Volunteer Opportunity posted by CADIP on June 22, 2016
For more information please visit: www.cadip.org
or give us a call:
416-943-4900 Toronto, ON
604-628-7400 Vancouver, BC
514-316-8500 Montreal, QC
780-638-2500 Edmonton, AB
613-454-5500 Ottawa, ON
310-882-7400 Los Angeles, CA
646-657-2900 New York, NY
617-841-0400 Boston, MA
Meet local people, and learn about Moroccan culture and way of life.
The objective of the project is the preparation of a local summer camp for children from the community. The volunteers will help installing the tents, painting frescoes, cleaning up the area, building green spaces, pruning shrubs and clearing leaves. They can also join some environment protection activities, cook in teams and play with the children.
Jebha is a small Moroccan port city, located on the border of the Eastern and Western Rif. It is the urban center of the rural town of M'Tioua in the province of Chefchaouen (region of Tangier-Tetouan). It was under the Spanish protectorate. Jebha's old name is El Puerto Capaz. Jebha is 130 km from Chefchaoun, 120 km from Tetouan and 47 km from Wad Lau.
Project period: September 3 - September 15, 2016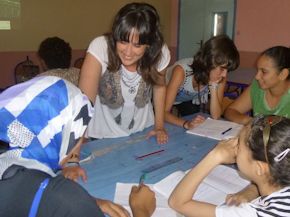 To sign up, please go to: http://www.cadip.org/volunteer-in-morocco
Long-term volunteering in Morocco: http://www.cadip.org/volunteering-in-morocco
Areas of focus:
Environment , Sports and recreation , International relations , Volunteering , Family , International cooperation , Poverty and hunger , Health and medicine , Community development , Education , , , , , , , ,
Jebha, Région de Tanger-Tétouan, Morocco
Start and end dates:

September 3 - September 15, 2016

Duration:

Less than 3 months
International volunteer options:

International volunteers welcome
Areas of focus:
Environment , Sports and recreation , International relations , Volunteering , Family , International cooperation , Poverty and hunger , Health and medicine , Community development , Education , , , , , , , ,
---