Olive picking experience in Turkey
Volunteer Opportunity posted by CADIP on April 28, 2016
Go to our website www.cadip.org for more info and click on "Join now!" to fill out the online application form.
☎ USA: 646-657-2900; 617-841-0400; 310-882-7400
☎ Canada: 416-943-4900; 514-316-8500; 604-628-7400
Math Village is a math summer school located in the nature, which owns over 1000 olive trees and harvests about 20 tons of olives per year. The oil produced from the collected olives is used in the kitchen of the summer school.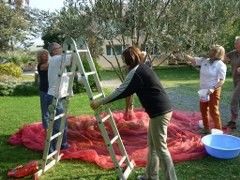 International volunteers will collect olives from the trees and pack them. If the olive harvest is low due to the weather conditions and there's not enough olive to pick, the volunteers will help with some other manual works in the facility.
Location: Sirince is a small village in the west of Turkey. The camp site is 1 km from the village. No night life or TV is available at the center, but there is internet connection. Sirince is very attractive and is famous for its homemade wines and its traditional architecture. The nearest town Selcuk is the home of the world famous Ephessus open-air museum. The nearest city Izmir is one hour away by bus.
Project dates:
November 15 - November 30, 2016
December 1 - December 15, 2016
More information and enrollment: www.cadip.org/volunteer-in-turkey
Areas of focus:
Environment , Sports and recreation , International relations , Volunteering , Family , International cooperation , Poverty and hunger , Health and medicine , Community development , Education , , , , , , , ,
Start and end dates:

November 15 - November 30, 2016; December 1 - December 15, 2016

Duration:

Less than 3 months

Time commitment:

A lot (10+ hours/week)

Times of day:

Mornings

Afternoons

Days of week:

Weekdays
International volunteer options:

International volunteers welcome
Areas of focus:
Environment , Sports and recreation , International relations , Volunteering , Family , International cooperation , Poverty and hunger , Health and medicine , Community development , Education , , , , , , , ,
---