International dancing project in Turkey
Kocaeli, Istanbul, Turkey
Volunteer Opportunity posted by CADIP on May 7, 2016
If you like to dance, this is your project. Ten international volunteers will be joined by five local participants for a dancing project. The volunteers are expected to perform a show at the end of the project in public. The funds raised from the show will support another project for disadvantaged young people. The main task of the volunteers is preparing the dance performance, but for 2-3 days there will be some manual work as well.
Location: Kocaeli is the city next to İstanbul.
Project dates: August 14 - August 27, 2016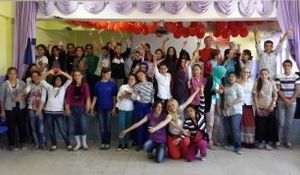 For more information, please go to: http:cadip.org/volunteer-in-turkey
Long-term volunteering in Turkey: http://www.cadip.org/volunteering-in-turkey
For programs in other countries check out: http://www.cadip.org
Areas of focus:
Environment , Sports and recreation , International relations , Volunteering , Family , International cooperation , Poverty and hunger , Health and medicine , Community development , Education , , , , , , , ,
Kocaeli, Istanbul, Turkey
Start and end dates:

August 14 - August 27, 2016

Duration:

Less than 3 months

Time commitment:

Full time (30-40 hours/week)

Times of day:

Mornings

Afternoons

Days of week:

Weekdays
International volunteer options:

International volunteers welcome
Thinking about grad school?
Idealist Grad Fairs are coming to a city near you!
Areas of focus:
Environment , Sports and recreation , International relations , Volunteering , Family , International cooperation , Poverty and hunger , Health and medicine , Community development , Education , , , , , , , ,
---