Teaching English to school students in Saigon
Ho Chi Minh City, Ho Chi Minh City, Vietnam
Volunteer Opportunity posted by CADIP on April 26, 2016
Volunteers will work in a free primary school for children whose families are too poor to be able to send them to public schools. There are more than 120 children at the school, aged 6 to 16, joining 6 classes. These children come from many different districts of Ho Chi Minh City, some of them even take almost 2 hours to get to the school. After classes, many of them have to help their parents earn money by selling lottery tickets, collecting scrap (plastic bags, glass …) or babysitting. The school provides the children not only with primary education with focus on literacy and numeracy, but also with meals at lunch.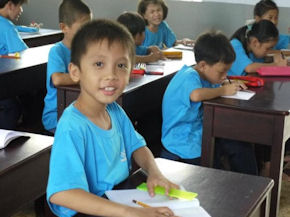 The volunteers will be divided into smaller groups to discuss and then organize fun activities about health, sport, environment, education, etc. The aim is to create an active environment for the children to practice English. Although they study English at school, their English skills are very basic and they can hardly communicate with foreigners. Moreover, because of limited facilities and skilled staff, they have little access to recreational activities. In the afternoon, volunteers can help renovate the classrooms or repaint the fences and walls.
Project dates:
June 6 - June 18, 2016
August 1 - August 13, 2016
September 26 - October 8, 2016
November 21 - December 3, 2016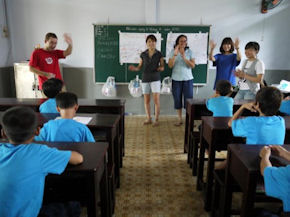 For more information and enrollment, please go to: www.cadip.org/volunteer-in-vietnam or give us a call: 646-657-2900; 310-882-7400; 617-841-0400
Cadip volunteer project review:
"My experience in Viet Nam was probably one of the most meaningful and memorable times in my life - I met some fantastic people with whom I will always be friends." Jennifer A.
CADIP International Volunteer Programs: www.cadip.org
Areas of focus:
Environment , Sports and recreation , International relations , Volunteering , Family , International cooperation , Poverty and hunger , Health and medicine , Community development , Education , , , , , , , ,
Ho Chi Minh City, Ho Chi Minh City, Vietnam
Duration:

Less than 3 months
International volunteer options:

International volunteers welcome
Thinking about grad school?
Idealist Grad Fairs are coming to a city near you!
Areas of focus:
Environment , Sports and recreation , International relations , Volunteering , Family , International cooperation , Poverty and hunger , Health and medicine , Community development , Education , , , , , , , ,
---