A love for education grows in the Bronx!
Volunteer Opportunity posted by Masa on April 26, 2016
Masa invites you to build a brighter future for the children of the South Bronx! By tutoring for two hours a week you can be a part of the change. Join us in transforming communities through education —one family, one child at a time!
We are seeking dedicated volunteers to provide tutoring and homework help to elementary, middle-school and/or high-school students at our South Bronx community center.
Masa's After-school Program operates on Mondays, Wednesdays, and Fridays from 6 PM—8PM. At the program, students primarily receive homework help, develop their reading skills, goal orientation/mentoring and begin to develop growth mindsets. They also have opportunities to participate in art, music, and other enrichment activities.
Masa's 2015-2016 After-School Program (MAP) will start on September 28, 2015 and run through early June 2016. Volunteers are admitted on a roll-in basis.
Requirements are as follows:
Ability to volunteer consistently for at least one of the following days: Monday (6 PM - 8 PM); Wednesday (6 PM - 8 PM); or Friday (6 PM - 8 PM).
Able to commit to volunteering for the all or most of the 2015-2016 academic yeawr (college students who will leave NYC in May will be considered). When working with children, consistency is the key to success!
Willingness and ability to serve as a tutor/homework facilitator to elementary, middle-school students and/or high-school students either in an individual or small group setting.
Attend mandatory Masa trainings and events (provided advance notice and multiple options for scheduling).
Provide feedback on student progress and/or concerns to Masa staff.
For more information you may also visit: www.masany.org or e-mail us at volunteeropportunities@masany.org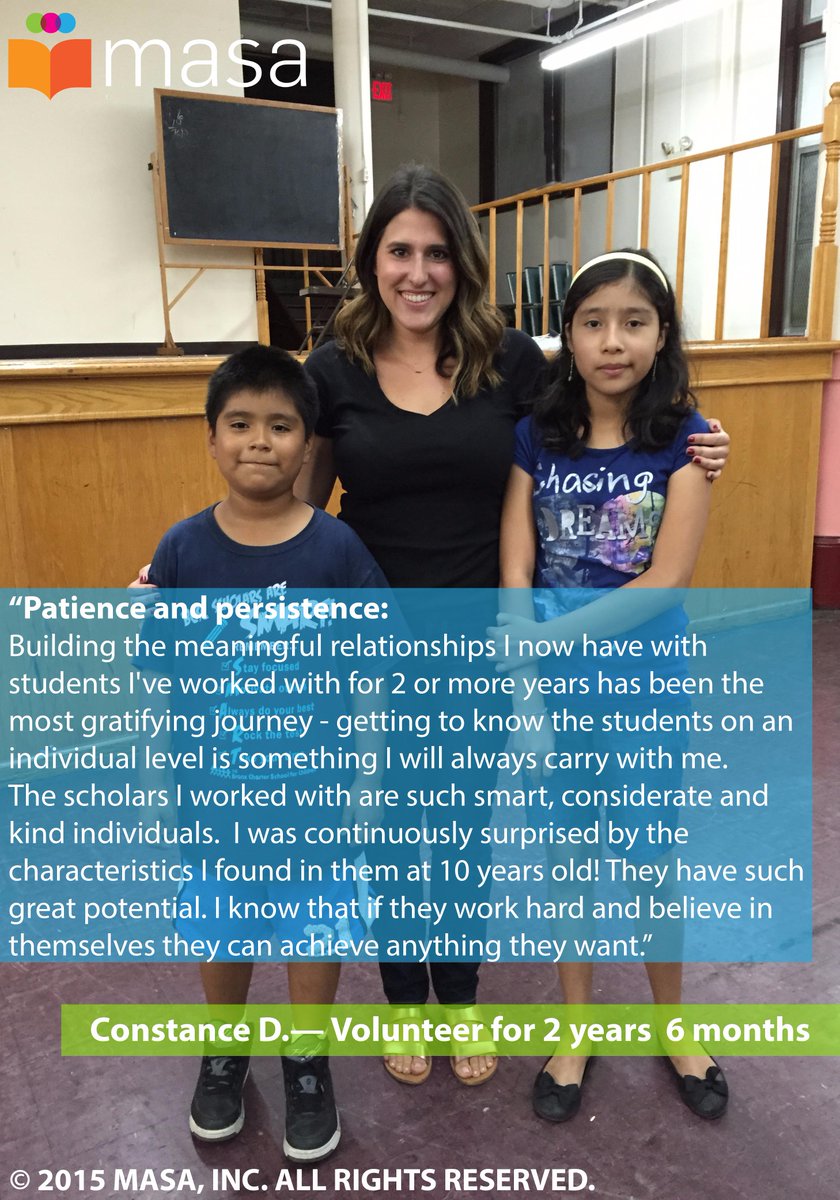 2770 Third Avenue
1st Floor
Bronx, NY, US 10455
Start and end dates:

Anytime through early june

Duration:

3 months or longer

Time commitment:

Occasional (weekly or monthly)

Times of day:

Afternoons

Evenings

Days of week:

Weekdays

Schedule:

Fixed schedule
Skills needed:

Extra details:

Training provided

Appropriate for:

Groups
---