Rock music festival in Bursa, Turkey
Volunteer Opportunity posted by CADIP on May 4, 2016
Go to our website www.cadip.org for more info and click on "Join now!" to fill out the online application form.
☎ USA: 646-657-2900; 617-841-0400; 310-882-7400
☎ Canada: 416-943-4900; 514-316-8500; 604-628-7400
The municipality of Bursa city is going to organize an International Rock Music Festival for the second time in 2016. A large number of native and foreign music groups and audiences are expected. Volunteers are needed to help with the preparation of the festival. Some of the tasks are setting up tents and stands, garbage collection, removing tents after the festival. Different types of manual work may be requested during the festival.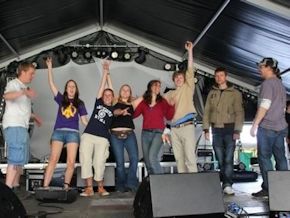 Apart from the labour contribution, volunteers with talents on video filming, photography, dance, drawing, painting, playing an instrument, street performances are welcome. Volunteers may present their talents and can make their amateur, out of stage performances on the festival ground.
Dates: August 23 - September 5, 2016
More information and enrollment: www.cadip.org/volunteer-in-turkey

Areas of focus:
Environment , Sports and recreation , International relations , Volunteering , Family , International cooperation , Poverty and hunger , Health and medicine , Community development , Education , , , , , , , ,
Start and end dates:

August 23 - September 5, 2016

Duration:

Less than 3 months

Time commitment:

A lot (10+ hours/week)

Times of day:

Mornings

Afternoons

Days of week:

Weekdays
International volunteer options:

International volunteers welcome
Areas of focus:
Environment , Sports and recreation , International relations , Volunteering , Family , International cooperation , Poverty and hunger , Health and medicine , Community development , Education , , , , , , , ,
---