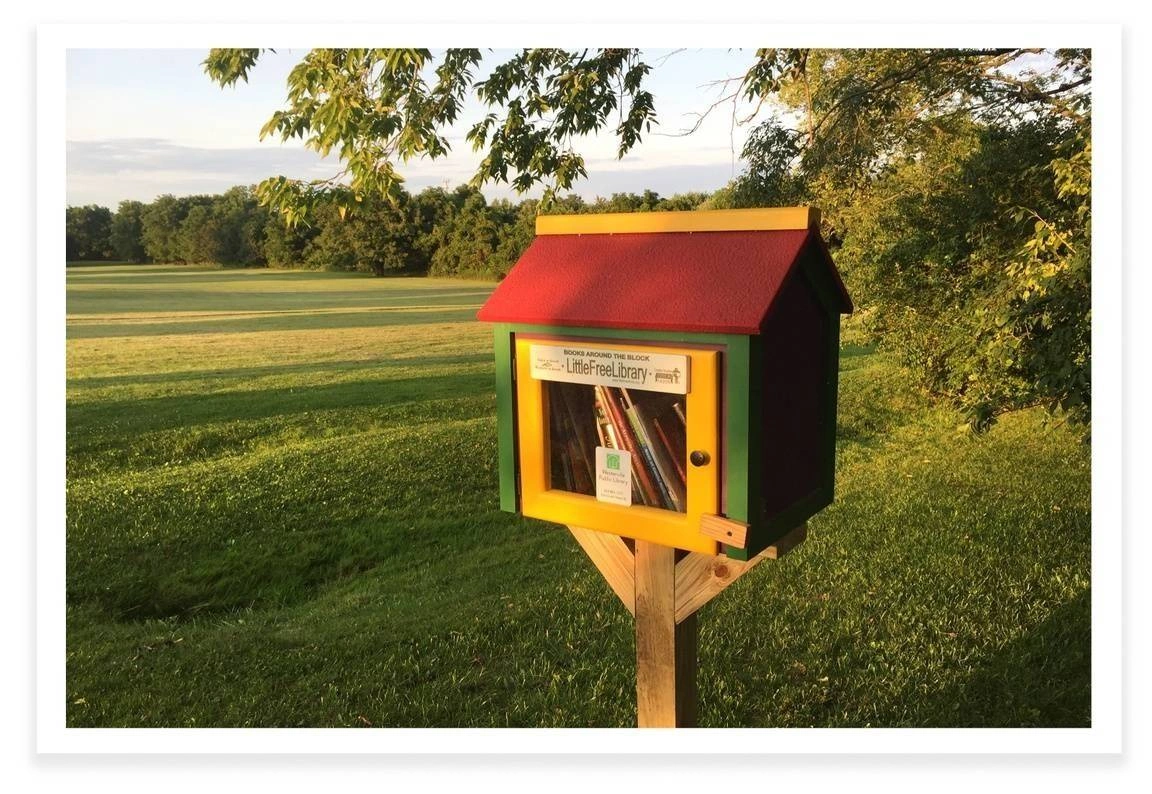 Whether you're a full-fledged bookworm or just a casual subway reader, you know just how special a book can be—and how wonderful it can be to share a great book with others. So, if you're looking for an easy Idealist Day activity that combines your love for imagining, connecting, and acting with your love of reading, then setting up a little free library, a place where people in your community can leave a book and/or take a book, is just the thing for you! Little Free Libraries build community, spark creativity, and inspire readers. Here's what to do to Start an Idealist Little Free Library.
In Brief
Step 1: Pick a site (local park, apartment building lobby), and secure permissions, as needed.
Step 2: Craft a container and put up a sign (using these handy templates).
Step 3: Plan a launch date (Idealist Days work great!). Then invite people to participate by using flyers and signs. Share your plans in the Idealists of the World and We Are Idealists Facebook groups, and list your launch in the Directory of Idealist Day Events.
Step 4: Do it! Then, celebrate! Take pictures, give high fives, and share online! Use #IdealistDay and #ImagineConnectAct and tag @Idealist on Facebook and @idealist_org on Instagram.
In Depth
Step 1: Pick a Site
Think of a good spot for your Idealist little free library to live. It could be a local park, community garden, or the lobby of your apartment building. Be sure to consider visibility. Places with a lot of foot traffic are always best, as it'll allow for more exposure—and more books!
Consider whether your Idealist little free library would be better indoors or outdoors. Indoor libraries can be much more makeshift, such as a simple tabletop or box, whereas with outdoor libraries, weatherproofing becomes a concern and requires a cover or lid.
Make sure to get permission from the location!
Step 2: Craft a Container
Think about the location you've chosen and what sorts of containers would work best. Keep in mind that you want your Idealist little free library to be highly visible. This could be achieved with your container's color, size, and placement. You also want your library to be able to hold at least 10-15 books at a time, so there's always room if you get lots of donations.
Also keep in mind that you'll have to protect your books from the elements if your library is outdoors, and remember that your library has to be sturdy. Books can weigh a lot, and the constant shifting around will cause wear and tear.
If you're crafty, you can build the container yourself, or repurpose an old suitcase, a plastic storage bin or milk crate, even an old mailbox! Be colorful, and don't hesitate to designate it with the Idealist logo or colors. There are options for every skill level and time constraint; all you have to do is get creative!
Make a sign for your Idealist little free library! Use our logos and templates, and make sure to point out that this is a Free book exchange—anyone can take a book and leave a book! Again, remember that weatherproofing is important for outdoor libraries, so you may want to laminate your sign or make it out of something that can withstand some rain.
Step 3: Plan the Idealist Day Launch!
If you have a few books of your own you'd like to donate, that's a great start! People are always more motivated if they aren't the first or only ones. Plus, if your library starts with some books already inside, people can begin using it even if they don't have a book to exchange.
Think about whether you'd like your library to be specific to one genre or audience. If there are a lot of children in your area, maybe a children's book library would be best. Or, you can build on the Idealist theme and choose books that inspire and give hope to people! 
Plan and promote your launch and installation on Idealist Day! Post about your Idealist little free library online, like in the Idealists of the World and We Are Idealists Facebook groups as well as your own social media pages. You can also put up signs around your community (using our handy templates). Share on email listservs in your community, too! Make sure to outline how the library works, when and where it will be, and to ask for book donations!
Be sure to post your Idealist Day project in the Directory of Idealist Day Events! This will connect your activity to the larger network of Idealists doing good on Idealist Day and help others find it. It may even inspire them to do a project just like yours!
Step 4: Do it! Then, Celebrate!
Arrive early to make sure your Idealist little free library is set up and ready to go. Consider what tools you may need for your installation (for example, if your library is on a stand, you may need to dig a hole in a patch of dirt or grass to mount it).
Put up some signs or balloons to help people find your location. You can also set up a table and serve some refreshments to maximize the celebratory vibe.
You can also add special Idealist bookmarks to each book and have some to hand out as people pass! This will help spread the word about Idealist Days and unify your library's message. Plus, we've included space for you to add a special note to your future readers!
Don't forget to take photos and videos during the event and share them on social media. Every action taken on Idealist Day makes a difference, and we all love to see the actions and cheer each other on! Tag @idealist on Facebook and @idealist_org on Instagram and use #IdealistDay and #ImagineConnectAct.
Congratulations! You've successfully imagined, connected, and acted on Idealist Day, and gotten your own Idealist little free library up and running! The fun doesn't have to end there, however. In the weeks and months that follow, keep checking back on your library to see how it's going. The fun of projects like these is that they take on a life of their own, and it's a beautiful thing that you've shared your love of literature with other members in your community. See if anyone has feedback for you or ideas for how to improve participation, and think about ways you can expand upon your library. Maybe you can put up another one across town, or start thinking about ways to make your little library bigger and more robust! From here, anything is possible!
Want to Make It Even Easier?
Collect some books you'd like to donate and find a place to give them! Ask your library first, then ask second-hand stores that support good causes like Goodwill or Housing Works, or see if a local school or church is looking for books!
Want to Take It to the Next Level?
You can register your library with littlefreelibrary.org, and join their database of little free libraries!
You can also hold future Idealist Day book swap events at your Idealist little free library site to keep the momentum going and the library growing!