Job Seekers And Hiring Managers | What Our Surveys Reveal About Employment In The Nonprofit Sector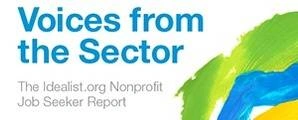 It's no secret that the past few years have been challenging for nonprofits as they try to serve their clients with shrinking budgets. We saw this first hand last year when we asked nonprofits to share the impact the recession was having on their organizations.
This year, we again approached the thousands of organizations on Idealist to ask them how they're doing, what they anticipate in the coming year, and to learn more about their human resources practices. We also asked job seekers to share their experiences to get a more complete picture of how the sector as a whole is faring. In total, we surveyed over 1,000 U.S.-based organizations and 3,000 active job seekers to find out who's hiring and who's looking, the latest in funding and compensation practices, and what's posing the biggest challenges to both organizations and job hunters right now.
In general things are looking up with 48% of all nonprofits plan to make new hires in 2012 and 54% say they will offer salary increases in 2012, up from 47% last year. However, what's compelling are the experiences of job seekers and hiring managers.
What we know about today's nonprofit job seeker:
They are experienced: 30% of job seekers are over the age 50; 26% have more than 11 years of experience in the nonprofit sector.
They value opportunities for career development: In fact, this is one of the top reasons job seekers who are currently employed full-time (33%) are looking to leave their current organizations.
They are committed in and outside of the office: 83% of job seekers have volunteered, demonstrating an interest in staying and growing in the sector.
They want to hear from hiring managers: The number one challenge job seekers face is the lack of communication from employers. In fact, 86% say they never receive any feedback or follow up at all.
Tip for job seekers: Given your experience and needs, it's even more important that you are searching for organizations that are a good fit. Be sure you're searching for the right opportunities by asking yourself a few key questions.
What we know about today's nonprofit hiring manager:
They wear many hats: 84% have responsibilities in at least one other area, most often program management, office/facilities management, and communications.
They appreciate attention to detail: Because they have to juggle multiple responsibilities, hiring managers place emphasis on potential employees following instructions in order to move through the hiring process as quickly and efficiently as possible.
They also prefer job seekers not call: Also because of their limited time and resources, 40% of hiring managers prefer that you not follow up about your job application status.
They value passion: 86% say that understanding their organization's mission is very important.
Tip for organizations: With many job seekers looking to leave their current organizations due to lack of advancement, you may need to get creative with how you support your employees. Over at Idealisthr.org – a community for nonprofit HR professionals – a nonprofit recently shared a successful leadership pipeline program they created designed to retain and support top talent. You can also strengthen your organization by tapping into the Idealist community.