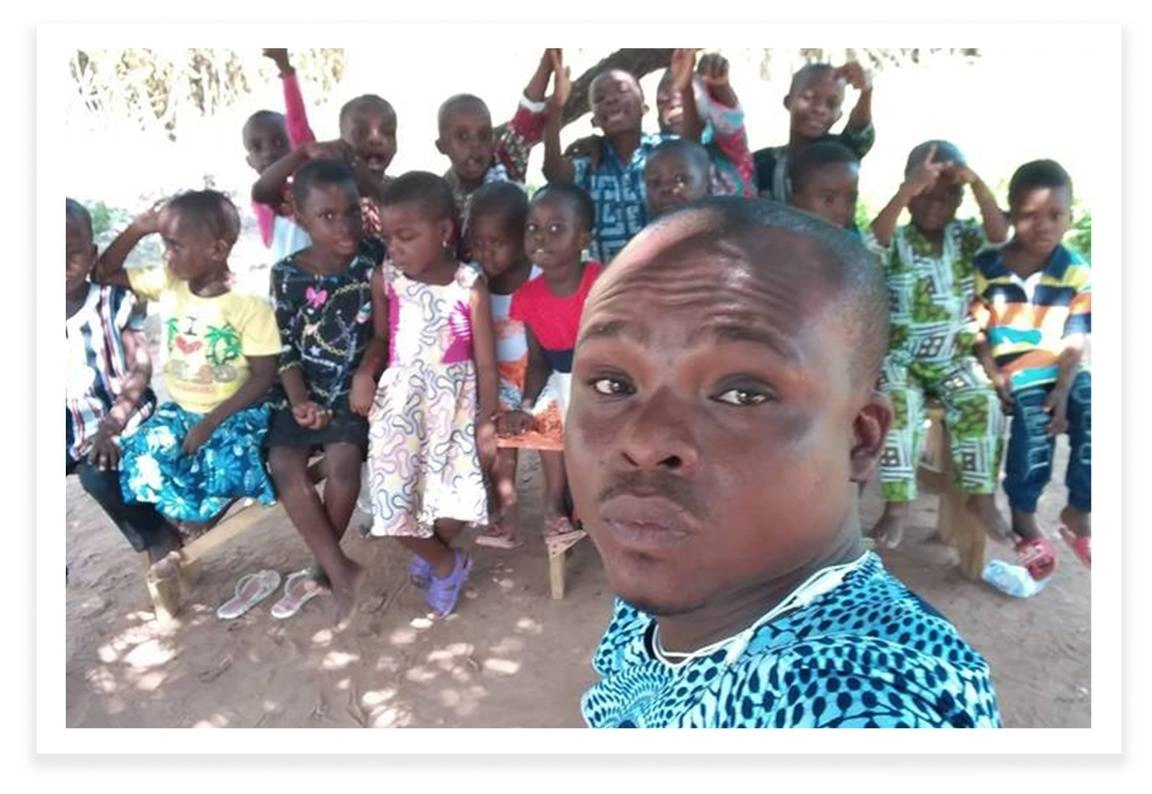 "Idealist Day is one particular day every month, but for me, I think every day is an Idealist Day here," says Francis Osei, an Idealist of Kpando, Ghana. Since April 2019, Francis has been organizing cleanup projects designed to combat the spread of malaria by eliminating mosquito breeding grounds. The cleanups don't always take place on Idealist Day, but for Francis, they're always in the Idealist Day spirit. "Every day is an Idealist Day," he says, "because you can meet anyone, anywhere, in need of help, and you can assist the person." Malaria, a mosquito-borne illness, has been a major problem in Africa for decades. The World Health Organization estimates 219 million cases of malaria worldwide in 2017, with 92% of those cases occurring in Africa."That's why I brought the idea [up]," Francis says of organizing the cleanups. "I met with the community leaders, and we came out with the idea of cleaning the town and clearing the bushes on Thursdays. The first week and the last week of every month, we clear the bushes and refuse dumps."
Francis joined the Idealists of the World Facebook group in November 2018 and founded the Idealists of Kpando soon afterward to begin doing work on Idealist Days. "I created the WhatsApp group," he says. "I have so many people there. That's how we discuss what we do on Idealist Day, and what you do for people to know that there is a group here called Idealist." For Francis, one critical area of focus is children's education, and he often takes the money he earns from his job as an IT technician and gives it away to keep children in school. "When I'm coming to work," he says, "I see some of them don't have money, so they will be crying. They don't want to go to school that day, so I go buy them some candies, and sometimes I'll pay for cabs so that they can go to school." On Idealist Day 3/3 Francis and fellow Idealists of Kpando donated 300 exercise books and other supplies to a local school. "I love children," he wrote in a post to the Idealists of the World group, "and I will make sure through the help of this noble [Idealist] family [that] they will go beyond the stars."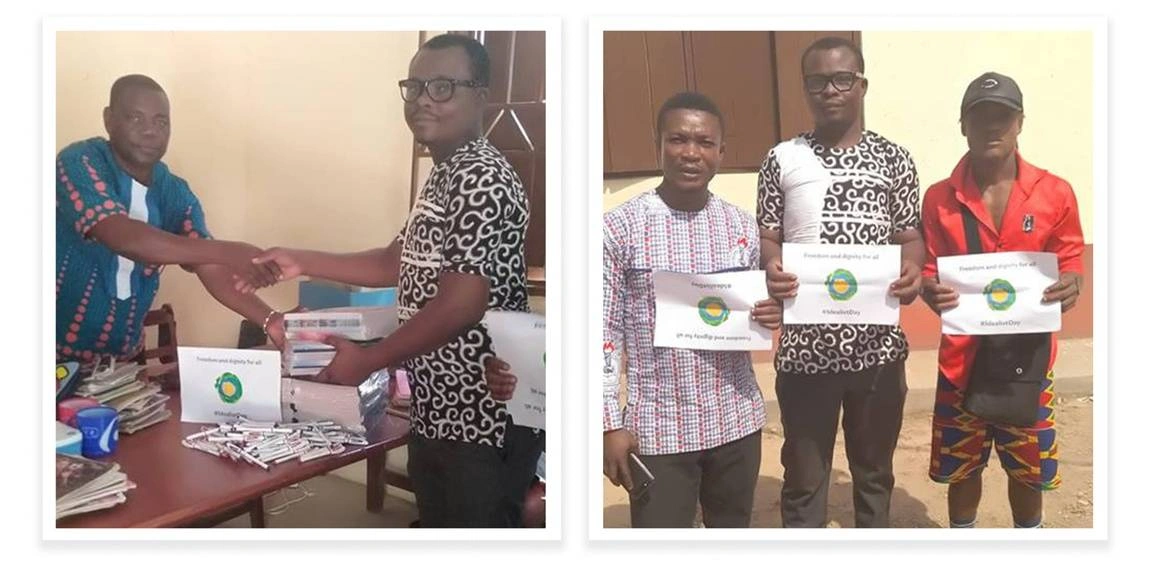 It is this concern for children that also led Francis to think about ways to combat the spread of malaria in his community. Children aged under 5 years are by far the most affected, making up 61% of malaria deaths worldwide in 2017. Pregnancy also significantly reduces the immune system's ability to stave off malaria infections, which puts expectant mothers at a very high risk of contracting the disease in malaria-endemic regions of Africa. To counteract this, Francis began working with community leaders to organize cleanup projects in Kpando. "I don't have much power here to organize," he says, "so I have to meet the community leaders here. They're all my friends, but I have to tell them." 
Once the idea was in place, the next step was alerting the community and asking for help. "We have a public announcing system here that we use," Francis says. "I will start announcing to the community that on this day there will be a cleanup exercise, so when the time comes we get there." Francis is proud to report that it doesn't take much effort to find people willing to help—the youth in particular. "Let's say about 2 or 3 people start working," he says, "and then you see so many people start joining in—grown-ups, and especially the youth. They are very interested because they know what's happening in their community."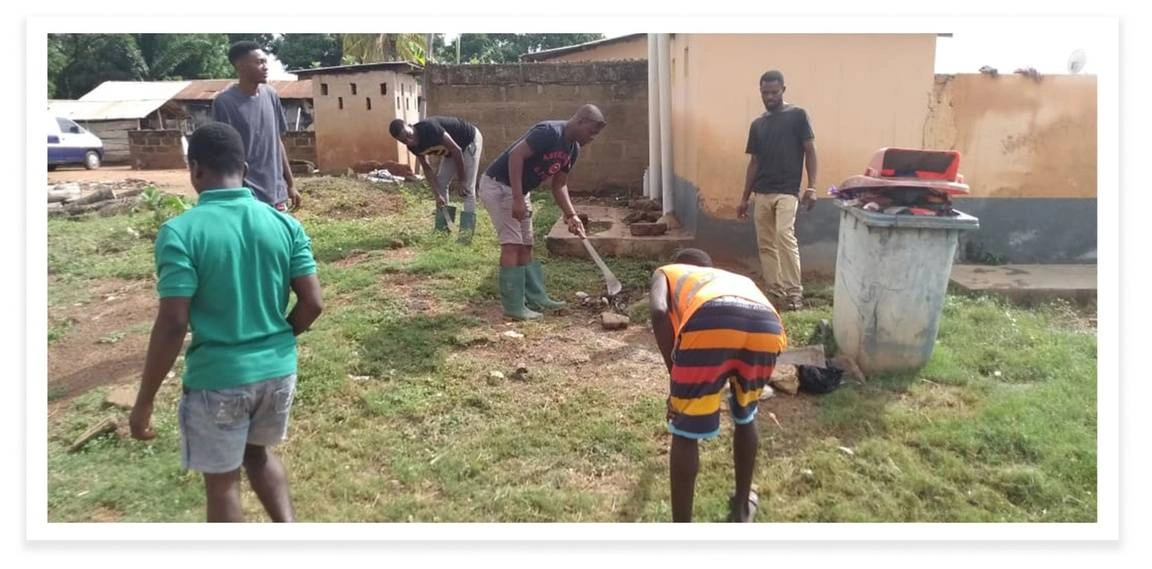 The cleanup projects kicked off in April 2019 and carried on regularly through May. On Idealist Day 6/6, a large group of Kpando youths gathered with Francis to clear a refuse dump in town near where Francis works. In Kpando, the reality of malaria hits close to home for everyone. "We have a very big hospital," Francis says. "That's why we see a lot of sick people here. So that's the main reason why we see the youths over here—they don't hesitate to help or join us." Together, Francis and his group cleared out major areas and refuse dumps in Kpando, eliminating the still water that malaria-carrying mosquitos use to breed. Looking to the future, Francis plans to expand his cleanup projects to other towns surrounding Kpando. "We are planning to go to other communities to at least let them know—talk to them about malaria," he says. He has written letters to nearby community leaders and is trying to implement cleanup projects in every town.  
What he's counting on, every step of the way, is the interest and assistance of the young people he is always trying to help. "I and my colleagues, idealists, we are planning to get some books for the children that will be around, so that after the cleanup exercise we'll share it with them. For the youth that join us and work together, we buy bottled water and different things for them so that they will also feel very good. Though it is for all of us, we have to do something to give them the courage, so that when we call them another time, they will respond to our calls." True to his hope, the youth have come out in numbers on Idealist Days to help their communities. "I feel very happy, very, very happy when I see them around," Francis says. "I feel very happy when I see them, joining us, working together."

Angel uses his skills as a storyteller to support and inspire job seekers and aspiring social-impact professionals.