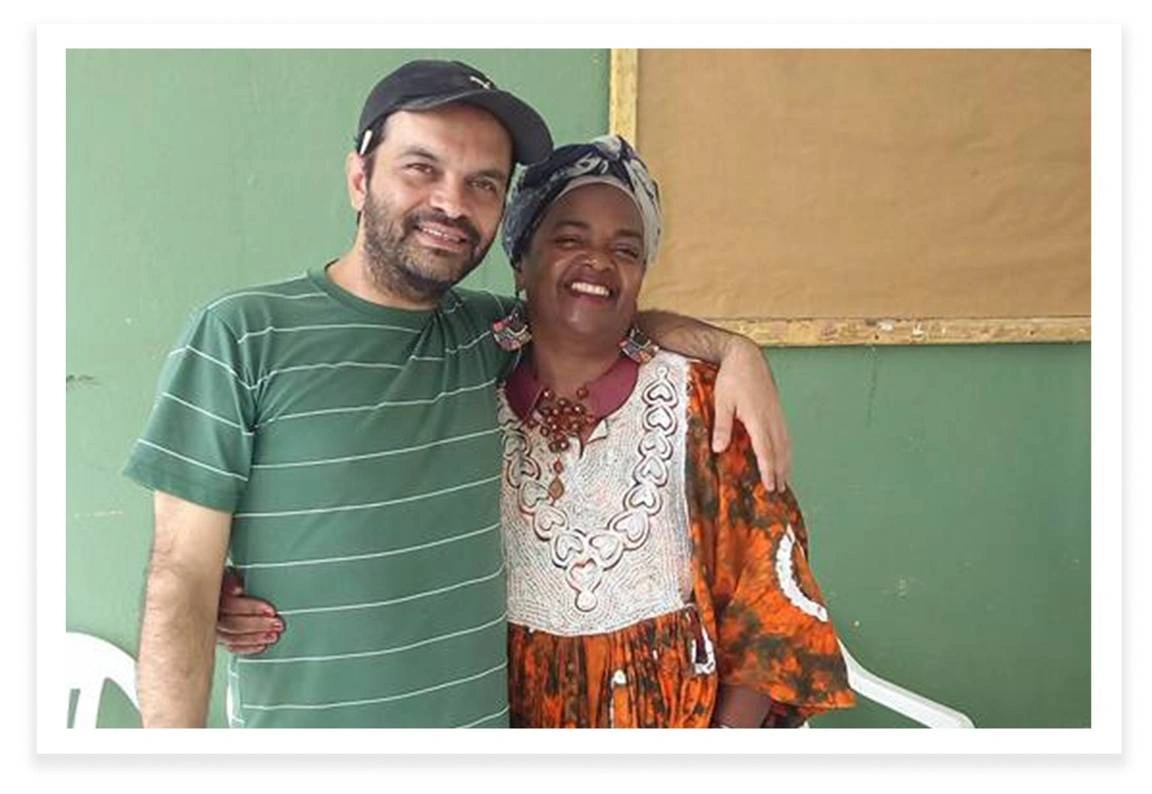 Bianc Amorim wanted to explore and promote Brazilian cultural heritage. He had no idea just how much he would find. 
Having made his career as a singer in Belo Horizonte, Brazil, Bianc returned to his hometown of Passa Tempo with a plan to launch an event series called Seasonal Music in the Plaza. The shows would feature music paired with cultural content, such as depictions of Brazilian folklore, fashion, dance, and art, all curated by Bianc. And all of the content would be designed in celebration of Brazilian culture and heritage, bringing people together through appreciation and education.
While planning one of his events, Bianc stumbled upon something that surprised him. "I was on Facebook, and a photographer friend of mine posted photographs of people from a quilombo," he remembers. A quilombo is a settlement of Afro-Brazilians—called quilombola—who were the descendants of escaped Brazilian slaves. Quilombos had been isolationist and hidden until abolition in 1888, and remain relatively obscure in many parts of Brazil.
Bianc had heard of the quilombola, but this was the first time he was hearing about a community in his own hometown—and he assumed this community would be news to others as well. This, he thought, was the perfect cultural content to bring to light. "I felt the need to get to know this community," he says, "to preserve it, and to let other people know that they are here, they exist, and they have a very unique heritage and culture."
Reconnecting the quilombola with Passa Tempo
Bianc reached out to the quilombo community, Quilombo at Cachoeira dos Forros, and invited them to contribute to the next Seasonal Music in the Plaza show. In between musical acts, women from the quilombola walked in, proudly wearing a variety of Afro-Brazilian hairstyles with great fanfare from the Passa Tempo community. "They had been invisible to us up to that moment," Bianc remembers, "but [after that show] the public began to know about them."
Bianc was only getting started. He had graduated from university with a degree in Public Relations, and was now flexing those muscles to maximize the quilombola's public exposure. "I connected with a friend in digital marketing who came up with a logo, and I created a Facebook page for them," he says. "Now the community exists online." Bianc also produced a pamphlet listing all the businesses in Passa Tempo and placed a photograph of the quilombola on the cover. The pamphlet was widely distributed to Passa Tempo's 9,000 residents, solidifying the quilombola's presence into the public's consciousness.

The quilombola reconnect with themselves through abayomi dolls
Bianc continued to organize cultural events to connect the quilombola with the community at large. It was during one of these workshops that the quilombola began to reconnect with parts of their own history that they themselves had started to forget.
"There was an abayomi dolls workshop," says Jordana Fernanda Mariano, a representative for the Quilombo at Cachoeira dos Forros. "My auntie saw them and said, 'I remember these!'"
Abayomi, meaning "precious meeting," are cloth dolls with a powerful history. As they were taken across the Atlantic Ocean on slave ships, African mothers tore pieces of their own clothing and, using knots and braids, fashioned them into dolls to comfort their terrified children. This origin story was something the quilombola had lost. "We knew about the dolls," Jordana says, "but we didn't know the history."
"They were passed down from our ancestors," Jordana adds. "My grandmother gave one to each of her daughters, and my auntie had played with them growing up. And after more than 40 years, my auntie got to know the true history of the dolls. It was very powerful."
After the workshop, Jordana and others in the quilombo began making the abayomi, and another idea was born. "The women often work harvesting peppers, which is very rough on them," Bianc says. "I wanted to help get them another source of revenue." Bianc supported the quilombola efforts to start a business crafting and selling abayomi dolls. In contrast to their dark history, the new abayomi were created with vibrant swatches of cloth, turning them into a symbol for the quilombola community in Passa Tempo. "The abayomi doll valorizes African culture," Jordana says, "and contributes to the recognition of our Afro-Brazilian heritage."

More exposure for the quilombo
Bianc has continued producing events highlighting the quilombola, including exhibitions of the abayomi dolls and other quilombola crafts. In 2019, photographer Luiz Maia attended one of the events and took portraits of the quilombola in attendance for a planned exhibition.
The photographs were displayed on a large scale in a gallery exhibition, presented at the State Assembly in Belo Horizonte on Idealist Day, 3/3, 2020, exhibiting to Belo Horizonte's population of more than 1.4 million and giving Quilombo at Cachoeira dos Forros a new platform from which to share their stories and their culture.
When asked about his future plans with the quilombola, Bianc's answer is simple. "I am very focused on making this project sustainable," he says. "My goal is that the people from the quilombo be proud of their origins, that we all learn more about them, and that the quilombola become self-sustaining."

Angel uses his skills as a storyteller to support and inspire job seekers and aspiring social-impact professionals.