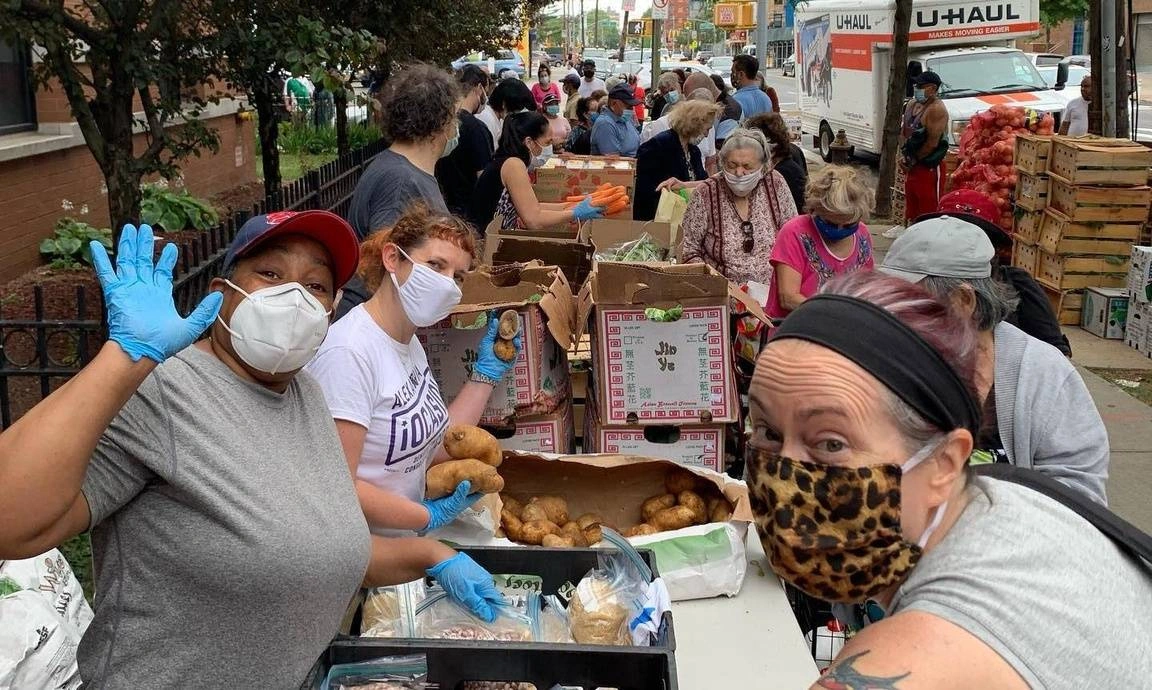 "Restaurants and chefs, by nature, take care of people," says Jonathan Forgash, chef and co-founder of Queens Together, a nonprofit founded to support local food businesses through legislative advocacy, policy education, and event planning. "I felt that they deserved more respect and love, so our organization was going to do these things for [them]."
Jonathan and Jaime-Faye Bean started planning Queens Together in early March of 2020—just before COVID-19 swept through New York City. As the virus forced food businesses to shut down, Jonathan and Jaime realized they were needed in more ways than they had initially envisioned.
"We realized we needed to launch immediately," Jaime says. "It created a situation where we really had to just do it and figure it out as we went along."
Helping local restaurants help others
Starting in their own neighborhood of Astoria, Queens, Jaime and Jonathan considered the best ways to address problems facing their community. Two issues in particular—job insecurity in the restaurant industry and food scarcity for others struggling through the crisis—struck them as not only related, but mutually solvable.
"If we raise money and put it into the restaurants so they can make some profit and keep employees working," Jonathan says of their thought process, "then these food providers can take care of their neighbors [by donating] prepared foods." The idea, which they call the "Plate it Forward" initiative, was a simple way to address both problems—all Queens Together needed was the funding to get started.
To that end, they began an outreach program, launching Instagram and Twitter accounts, as well as an official website listing the local restaurants that were still open for business, and offering training for volunteers to eventually widen their scope to the entire borough. Through their efforts, Queens Together was able to amass more than 700 volunteers and donors in and around the borough, collecting more than $86,000 in donations. That money was then granted to local restaurants to produce meals for food drives and meal delivery programs throughout the Queens. The result: a self-sustaining mutual aid network that flourished during a time of crisis.
"We believe that the food culture and food businesses industry of Queens is the engine for change," Jaime says, and that idea turned out to be bigger than she and Jonathan expected.
Expanding the reach of Queens Together
Soon after taking off, Queens Together began collaborating with other organizations on projects, outreach, and initiatives, all based around using local food businesses as a resource for the community. Collaborative efforts included helping to launch Frontline Foods Queens, dedicated to sending meals to healthcare workers during the COVID-19 crisis. Queens Together also started their own food pantry called Veggie Days in partnership with the Variety Boys and Girls Club of Queens. "We not only provided food to our food pantry, which is about 400 to 500 families," Jonathan says, "but we are sharing the produce we're getting with other organizations such as the Blaque Resource Network. Between prepared meals, produce, and food providers, we think we've provided meals and groceries to over 1700 families."
Most recently Queens Together has added a fundraising platform to their website, where individuals and businesses can raise money to support their communities using the "Plate it Forward" method, at no additional cost to them. "The money goes through us, but you can see every dollar raised," Jonathan says of the simple, three-step process. "Every penny goes to help the organization you're supporting." Through this platform, Queens Together hopes to give every community in Queens the ability to support its local businesses while also taking care of its most vulnerable members.
How to "Plate it Forward" in your own community
For Jonathan and Jaime, Queens Together started with a simple idea: that the means and methods for communities to get through this crisis—and future crises—often exist within the communities themselves. They also believe that the model is scalable. 
When asked what advice he'd give to those who are looking to start something similar in their own communities, Jonathan offers a few points of guidance:
Watch and listen. Spot the problems on the ground in your communities and jump into action, because it's possible no one else is, yet. But be sure to look up local mutual aid groups or organizations that might already be up and running, because it's easier to join one than to start one.
Ask for help. There are thousands of people in your community with valuable skills, time, and dollars, just waiting to do something.
A phone, a computer, you, and your passion—it's amazing what one can do with these few items. You are more powerful than you know. Get to it!
Queens Together also plans to extend the lessons and tactics they've learned by offering education and mentorship programs to other communities. "Our ideas and methods are free," Jonathan says. "Check out our website and reach out to us for help."
The future of Queens Together
Queens Together doesn't plan on going anywhere, even when the COVID-19 crisis is over. In fact, they're entertaining some big new ideas—helping local restaurants turn into soup kitchens by day while operating commercially by night; paying food providers to stock food pantries through their own suppliers; having supermarkets host weekly food pantries with food ordered from their wholesale distributors; hosting food crawls—as well as hosting a membership drive for Queens county food businesses, and returning to their original goal of providing support, promotion, advocacy, and education on their behalf.
What started in the midst of a crisis has, in just a few months, grown into a movement larger than Jonathan or Jaime could have imagined. "What is extremely heartening is that the response from our community was really immediate," Jaime says. "Once our grassroots communities saw what we were doing, they wanted to be part of [it]."
"This is proof that community, government agencies, and businesses can work hand-in-hand to take care of their own," Jonathan adds. "So maybe this is what the future looks like. The spirit is there. We can do this."
***
Thanks for reading! For more inspiration, try our Idealists in Action newsletter, which sends "now hiring" updates, good news, and volunteer opportunities to your inbox every other week.
Angel uses his skills as a storyteller to support and inspire job seekers and aspiring social-impact professionals.