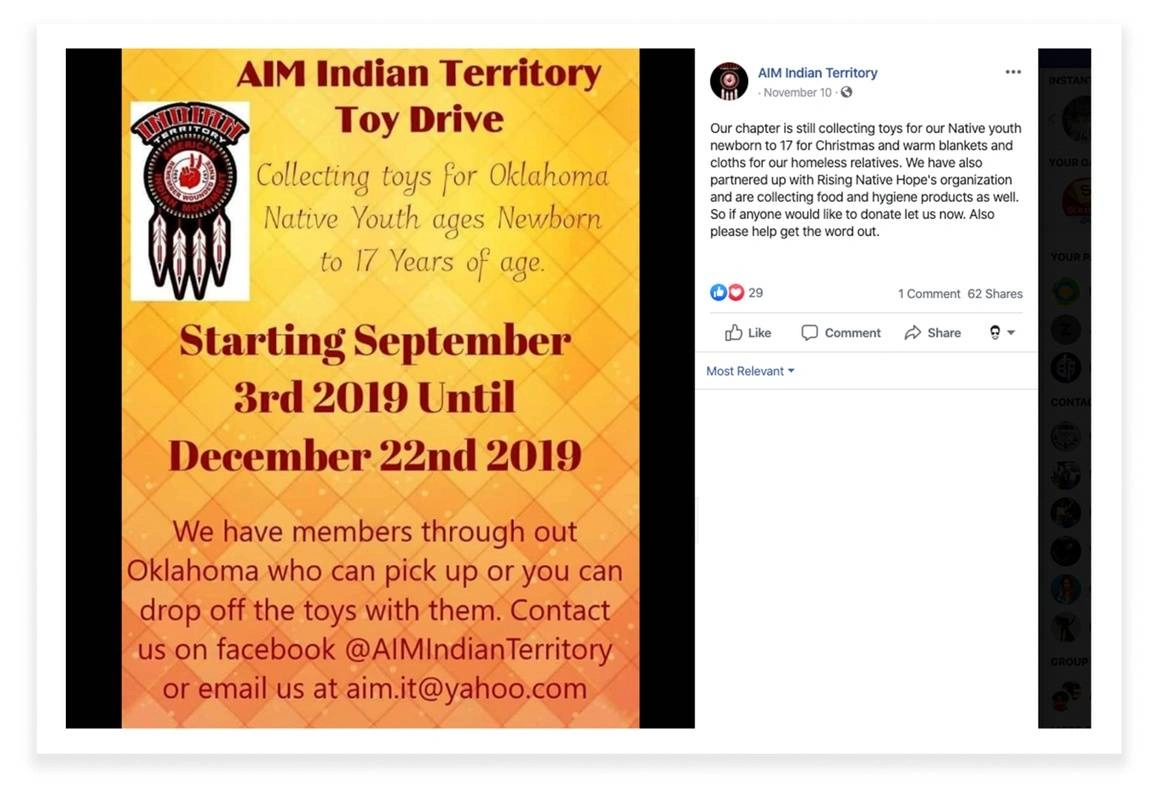 On Youth Pow Wow Night at the site of the Oklahoma City Powwow Club, an empty box was brought in. By night's end, through an outpouring of monetary and physical donations, that box was full of toys, kicking off a drive hosted by the American Indian Movement, Indian Territory (AIM IT), a local Oklahoma group of Native Americans and allies fighting for indigenous rights since the 1960s. "Contrary to popular belief," says Thomas Owen, a member of AIM IT, "despite the casino money here, there are sadly so many poverty-ridden areas. This is where we are concentrating, with toys, clothing, and donations."
AIM IT, though a small group belonging to a wider AIM coalition, has made its mark fighting for social justice. "Currently the works of AIM are all over, Thomas says. "Outreach, earth protection, civil rights injustice, truth in historical education, continued rights of the Native community, and other things." AIM IT has also stood for children being held at the US-Mexico border; they've campaigned for the Dreamers and the Deferred Action for Childhood Arrivals; and they have also worked towards education reform, hoping to rectify the missing and mistaken information in textbooks regarding Native American history.

The AIM IT toy drive began at the Youth Pow Wow on October 9th, 2019, and will continue through December 22nd. "This is our first year with this," Thomas says, "We had a couple of years of coat drives [in the past], working with others, pow wow groups and such." The toys will primarily go to support Native children in Oklahoma's rural areas. AIM IT is coordinating with local schools and counseling groups to locate children in need, and the toys and supplies will be provided to them just before Christmastime.
Sharing the results from the first night with the Idealists of the World Facebook group, Thomas was both grateful and optimistic. "A huge Thank You to the Oklahoma City Pow wow Club for last night," he wrote, "and especially to the people that not only opened a door but opened their hearts. Big Time." The donations were plentiful and generous, and Thomas, along with all members of AIM IT, hope that they will bring some love and light to Oklahoma's Native children. "Pow wow is supposed to be spiritual and healing medicine," he says, "and these people made it so. Thanks to all who donated toys, money, and their hearts. I pray this spirit will pass on to these children through our gifts."

Angel uses his skills as a storyteller to support and inspire job seekers and aspiring social-impact professionals.