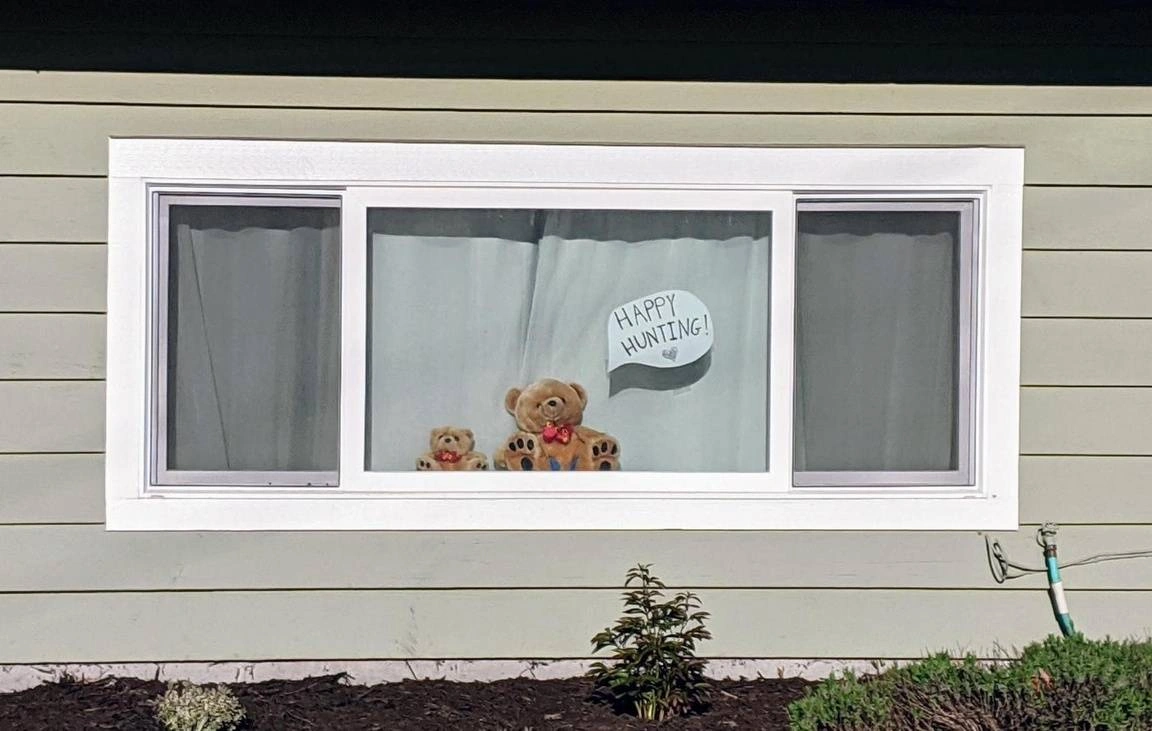 When we're presented with a worldwide challenge like COVID-19, the news can be filled with both the best and the worst of humanity. 
A bright spot of the crisis is seeing the creative ways in which people continue to step up for each other, over and over again. And one of my favorite of these bright spots is the Buy Nothing Project, a grassroots community endeavor that "offers people a way to give and receive, share, lend, and express gratitude through a worldwide network of hyper-local gift economies in which the true wealth is the web of connections formed between people who are real-life neighbors." The project started in Washington state back in 2013, with the first group Buy Nothing Bainbridge co-founded by Liesl Clark and Rebecca Rockefeller. Since then it has grown exponentially, and today there are groups across 30 countries. Though they don't exactly align with mutual aid groups, The Buy Nothing Project shares many similarities with the mutual aid groups that have recently surged in popularity and necessity.
At its core, the Buy Nothing Project is about so much more than gifts and reducing waste—it's about connection. And in the midst of a global pandemic, neighbors are showing their support for each other in ways big and small. As a member of the Buy Nothing Licton Springs group in Seattle, the outpouring of mutual support and neighborly love has brought tears to my eyes more than once. Here is just a sampling of some of the simple yet powerful things that Buy Nothing Project groups have been doing in recent months. Please note that all names included in this piece are shared with permission.
The teddy bear hunt
Over recent months, there has been a nationwide movement to create a social-distancing-friendly scavenger hunt for kids who are stuck at home. I heard about this through a post in my Buy Nothing group when one parent said they had only seen one bear on their street. She asked "Does anyone know a good street to look for bears?" and everyone seemed to know what she was talking about. 
Suddenly, my neighbors were all putting bears in their windows and posting their cross streets. And let's be real—it's not just for kids. Teddy bear hunting has become part of my dog walking routine, and every new bear I see brings a smile to my face. I snapped this photo on my last dog walk: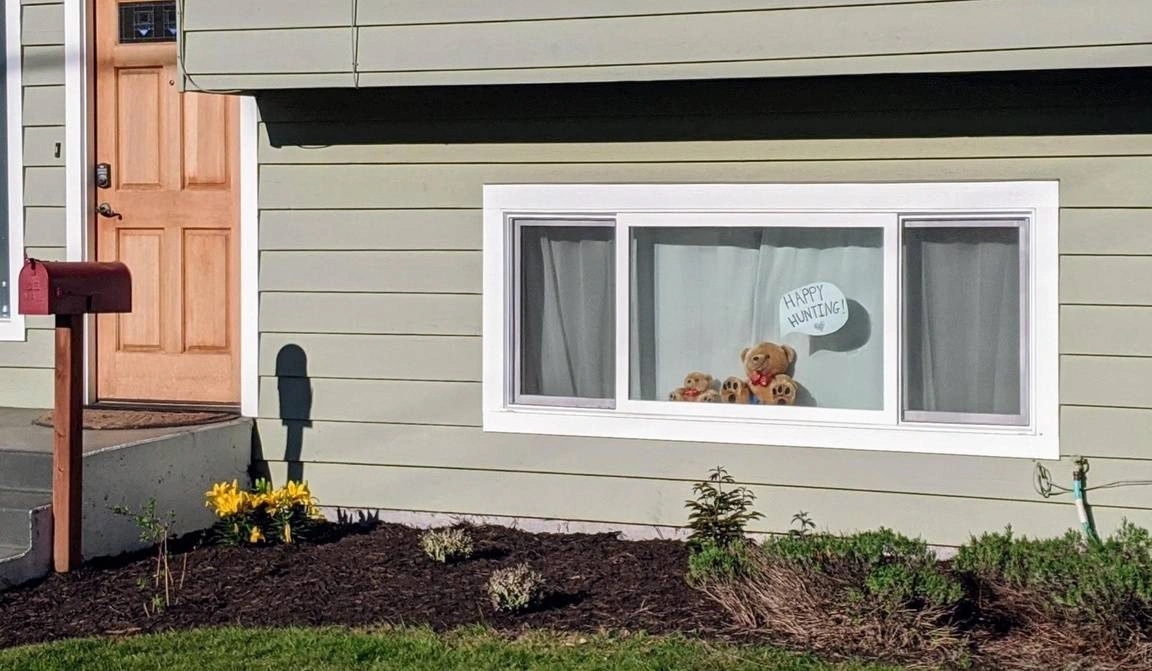 The quarantine dog walking rotation
Buy Nothing member Mel posted that she had tested positive for COVID-19 and was under quarantine effective immediately—leaving her in an extremely challenging position as a single person with a pet in an apartment, and no way to walk her dog, Risky. For many, paying for three daily walks can be a budget-breaker, and even more so as this outbreak has brought so many parts of our economy to a screeching halt. Friends had suggested finding a two week foster placement; some even suggested giving Risky up, a heartbreaking prospect for any pet owner. 
"The despair has finally hit home here. Is anyone willing or able to help me out with this?💔"
Less than 20 minutes after Mel shared her predicament in her Buy Nothing group, neighbors created a two-week schedule spreadsheet for three daily walks, and every single walk had been volunteered for. This neighborhood "quaran-team" made sure there were protocols in place for sanitizing leashes, having gloves available, and everything else they needed to make sure they could fulfill this need while staying safe and healthy themselves. 
Wondering why so many stepped up to help? Neighbor KC told us, "Mel is a kind and thoughtful person in our Buy Nothing neighborhood group. She rarely asks for anything, but makes her loving presence known through gentle compliments on posts. She's a special education teacher and gives sunrise to sunset for the unique learners that she serves. She has saved me from spiders in my home, and even picked up my beloved pet's ashes to bring him home to me. So when this gentle, giving, compassionate neighbor made her request for help, it was my wife's and my honor to provide support. We adored getting to meet Risky in person!"
Modern-day neighborliness exists as much online as it is out in the world. Mel has since recovered and she and Risky are home together, safe, and sound. 
The sewing brigade
Some neighbors are giving the gift of sewing skills to create masks and help keep people safe. With a shortage of personal protective equipment that had officials discouraging people from buying disposable masks, community members rose to the challenge with creativity and generosity. Neighbors broke out their sewing machines and started churning out reusable fabric masks, free of charge.
Buy Nothing Project group member Cindil and her mother Dawn, a retired respiratory therapist, have made and distributed more than 230 masks. Another neighbor had a fabric stash and started creating pre-cut, ready-to-sew kits with instructions for people with their own sewing machines at home. 
Building community
Joining a mutual aid group or a Buy Nothing group is a great way to meet neighbors and create a stronger community through connection, both online and off. You can explore mutual aid groups right here on idealist.org for more ways to lend a hand in a hyperlocal way. Mutual aid groups offer opportunities for communities to connect, both virtually and in person, in order to support one another and share resources in this time of crisis. Start connecting with others near you by searching for or creating a group in your community.
Ashley Fontaine is a writer, mental health professional, and former nonprofit executive director. She's on a mission to eliminate "we've always done it that way" from our collective vocabulary by helping leaders focus on possibilities rather than limitations. She believes organizational culture is the key to productivity and staff retention.