3 Not-So-Terrifying Ways to Practice Public Speaking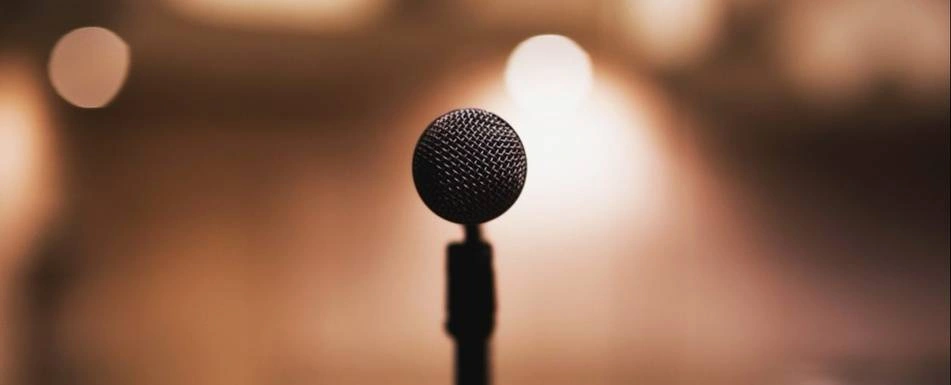 Are you most at home with a mic in your hand, offering a hard-hitting yet relatable opening keynote to a room full of 1000 conference attendees? How about ferociously clicking through a PowerPoint as your board of directors looks on, eagerly awaiting the moment that you'll open up to questions? Do you reach a zen state each time you get in front of a crowd to give a public presentation?
Neither do I.
If, on the other hand, you answered yes for any of the above, I apologize, but this article may not be for you. For the rest of us, however, here are some accessible ways to practice public speaking, even if it's not quite your thing.
Volunteer for story time at your local library
When I first graduated college, I worked at a children's museum. In addition to cleaning spit off of plastic blocks and filling glue bottles, I was also tasked with leading story time a few times a week.
At first blush, this may not seem like the ultimate public speaking opportunity, but hear me out. Story time gives you a chance to experiment with delivery, tone, gestures, and expressions, and usually, you're working with familiar material and in front of an incredibly captivated audience.
Most libraries that have story time on their schedule accept volunteers, so reach out to your town library or recreation center to inquire as to whether they offer this kind of opportunity.
Some programs will even share a brief survey with attendees (i.e., parents) at the end of the program or the end of the month. If you're looking for feedback, ask the host organization if there may be an opportunity for you to get a peek at some of the feedback shared after your story.
Present on a conference call
If your organization is geographically dispersed, chances are there is a weekly, monthly, or quarterly conference call on your calendar. For these kinds of all-staff check-ins, topics usually vary and there is almost always an opportunity for a member of the team to volunteer to present on a project they've been working on.
The next time the schedule gets sent around asking for folks to sign up to present on one of these calls, put your name on the list (if you have a project in mind).
The beauty of using your organization's conference call as a practice space is that no matter how many people are on the line, it's all the same to you because you likely won't be able to see or hear any of them. If your issue is stage fright, this is a great way to practice being in front of a big audience without feeling like you're actually in front of a big audience!
Get a room!
If you're getting ready for a presentation, schedule some time in a private space in your office to rehearse aloud. Even if you know your deck front and back, the value of rehearsing aloud should never be underestimated!
As you rehearse, make sure that you're happy with how you're delivering the material. If you're not, stop, and start that sentence over and keep starting over until you've found a succinct and clear way to deliver your message.
Pro Tip: You may even want to record yourself during your practice. This can give you a better sense of your timing, whether you're talking too fast, or using too many filler words like "um."
Do you have other tips for beating those public speaking jitters? Tweet us at @idealistcareers.
Did you enjoy this post? There's plenty more where this came from! Subscribe here for updates.