6 Ways To Make The Most Of A Conference When You're Attending Alone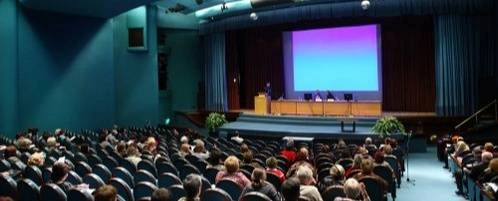 Guys. Seriously, I have attended so many conferences alone. I've been to Las Vegas, Dallas, Salt Lake City, and even the Bahamas. Not to mention the countless New York-based events (I really have no idea how many). I've usually been covering these events and writing about them for whatever publication I was working for at the time, but I've learned some universally applicable tips.
Here's how to make the most of a conference that you're attending by yourself.
1. Schedule meetings ahead of time. Reach out to people who you know will be there and try to set up meetings. Plan to grab coffee prior to the morning keynote or meet for lunch or plan to attend a specific panel or cocktail reception together. By having a few key meetings already set up, you will feel less overwhelmed if you don't know anyone there. Plus, new friends!
2. Know what you hope to get out of the conference. What are your goals?Are you spreading awareness about your organization? Writing about the event for your blog? Want to focus in and learn more about a specific part of fundraising? Plan ahead and determine which events, panels, and sessions are most relevant to you, and figure out which companies you'd like to learn more about or meet.
3. Talk to people. This one is always the hardest for me, and I don't even consider myself an introvert. Ask attendees what they thought of the most recent speaker. Be bold and ask questions during panel sessions. If you see someone hanging out alone, go up to them and say hi! Practice your elevator pitch prior to the event, read up on news prior to the conference, and think about what events and speakers you're looking forward to—those can all be great conversation starters.
4. Socialize. Is there a cocktail reception or a trip to a local community center? Go! It may seem awkward to go to the socializing events alone, but it is a great way to meet people outside of business. And if there's nothing planned, consider organizing a beer tasting at the pub down the street from the conference center, or gathering everyone for coffee and conversation.
5. Use social media. I've met people and made connections at conferences by live-tweeting events. Retweet and reply to people, and if someone cool shows up in your feed, ask if you can meet in person! Use hashtags, and attribute quotes to the speakers (with their Twitter handles if you have them). You can also use social media to send out a call prior to the event. Who of your followers will be there? What do your followers want to know about the event?
6. Bring business cards—and follow up. This may seem old school, but unless everyone has the app where you bump smartphones and share numbers, it is still the best way to gather people's contact information. Then, when you're back in the office, email and say hi. Mention something about when you met and suggest how you can work together or stay in touch in the future!