Idealist Careers Talk | Careers In Nonprofit Communications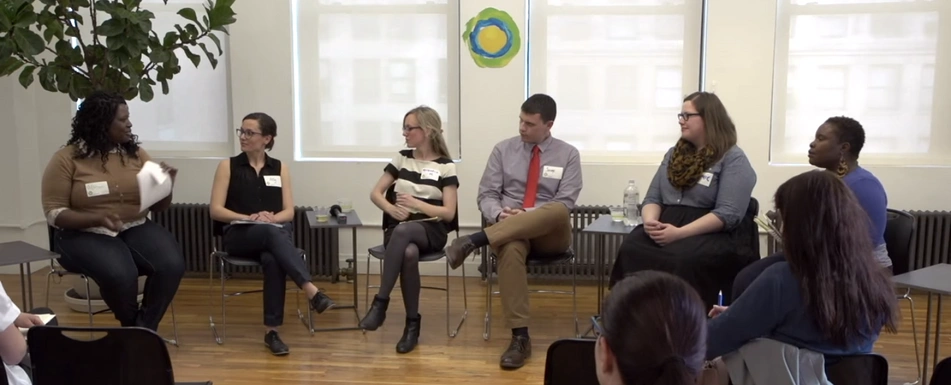 If you missed our live, in-person Careers in Nonprofit Communications panel in NYC a few weeks ago, you're in luck because we have a full video presentation of the evening for you to watch! In this panel, five nonprofit communications professionals shared their insights into the type of work they do, what's been most surprising about their roles, and how they found their place as communications specialists at their respective organizations.
You can watch the entire conversation here and keep reading for a few highlights!
Here are five insights we noticed:
Communications plays a role in other functions throughout an organization
Jereme Bivins, Digital Manager at the Rockefeller Foundation mentioned communications is involved in programming, fundraising, operations, and information technology. So while you may be writing, proofreading, and editing as a communications professional, don't be surprised if you're asked to help navigate through technologies used in a communications department, such as API or Box cloud storage. Some projects that you think would be led by the IT team might actually be led by the communications team.
Similarly, Ally Dommu, Strategist at Big Duck Communications discussed the relationship between communications and fundraising and how the functions of each seem to have blurred. Many organizations' fundraising goals rely on refining their communications strategies, specifically: selecting the best message for appealing to donors for organizational support.
Freelancing can be a great strategy towards making a career transition
If you're not finding a permanent position in your career field of interest, keep your skills fresh by freelancing and building a portfolio of relevant work that you can show to potential employers. Freelancing can also help in building relationships; you can learn who's hiring and what they are looking for. According to Jamie Smith, Communications and Network Engagement Director at YNPN, you can use your freelance gigs at an organization as an entry-point into a role. It gives the organization an opportunity to see your work, assess your abilities, and consider you for a full-time position.
If you're interested in freelancing, build your career by working for free...strategically
This insight from Jamie Smith was a popular one among attendees! She relays how she leveraged pro bono gigs to get clips and other samples of her work that she could then present to paying clients. Once you have those samples, become more proactive and assertive about approaching potential clients.
Skills, fit, and passion are attributes that can help you get the job
Michaela Monahan, Marketing Manager at Big Duck Communications identified three core things that are important to get into her line of work: skills to do the job, your ability to fit with the organization's culture, and passion for the job and the social issues that it addresses.
The are many skills that can help you gain entry into the field of nonprofit communications and many ways to obtain them
Ally Dommu, Strategist at Big Duck Communications, mentioned that some skills, such as strategic thinking and technical competencies, are ones in which you can gain experience and proficiency in so many different ways. Identify times when you've thought through goals and objectives, how to meet them, even the types of audiences you are looking to reach. The fundamentals of communications can be learned in many different areas.
You have to love what you do 
And if you're not loving what you do, find a way to incorporate it into your job. Veralyn Williams, Communications Organizer at Brooklyn Movement Center urged attendees to pitch ideas at work that are in line with their interests and what they are good at. She shared her own anecdote of having experience in radio, missing her work in that medium, and pitching to her organization that they do a podcast (which they now do!).
We hope you enjoy this lively conversation! And if you're eager to find a job in nonprofit communications, be sure to search for great opportunities on Idealist!
Did you enjoy this post? There's plenty more where this came from! Subscribe here for updates.
By Victoria Crispo