What to Wear to an Interview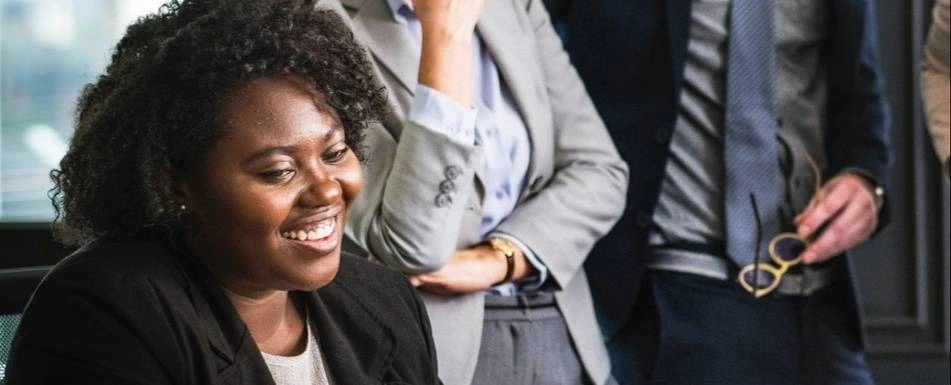 Most of us know the basics of dressing for an interview. But we might still wonder: are we too fancy? Not fancy enough? Does our outfit make the right impression? Interviews are nerve-wracking enough without also having to worry about physical presentation.
Fortunately, the right interview outfit can increase your confidence—and your potential employer will see something special. Here's what to look for when you survey your closet.
How formal should you be?
Yes, you should dress up—even if the people at the organization wear jeans and T-shirts, and even if your interview is an informal one-on-one at a coffee shop. Formal clothing shows respect, poise, and professionalism.
A few rules to go by:
Err on the side of being too formal. You're unlikely to make the wrong impression by being overdressed; remember, this isn't the outfit you're going to wear every day if you get the job.
The "interview suit" is a good wardrobe staple. You don't have to spend a ton of money, but a well-fitting suit in a neutral color like black, gray, or tan can serve you well through multiple interviews and limit wardrobe choice anxiety. Add a collared, button-down shirt in a matching shade (you can't go wrong with a white shirt). Depending on the climate where you live, you might want some swappable jacket and blazer options for colder or warmer months. If casual attire is the norm, you may be able to get away with a clean, pressed, business casual look (a camisole, nice t shirt, or sweater) minus the suit jacket. But the suit is still a safe bet.
Keep it simple. Customize a suit with a tie, scarf, or other accessories; a tasteful pop of color, if that's your style, can help you feel more like you. But your outfit should be the background of your interview, not the focus.
Clean dress shoes in a neutral shade are another good staple. Make sure they fit comfortably and that you can walk in them. If you're not comfortable wearing heels, pick a pair of classy flats instead. Stick with closed toes, though, even in the summer.
What if the interview process involves an on-site visit or other activities where formal attire won't be practical? In that case, ask your organizational contact what wardrobe they recommend.
What your outfit says about you
The ideal interview outfit can complement the prep work you've already done. A good ensemble signals:
You're confident. If you don't like dressing up in your daily life, formal interview attire may feel artificial. Hedge your bets by minimizing discomfort. Pick clothes that are right for your body, and try the outfit on a day or two in advance to get used to it. Feel free to give yourself a mirror pep talk before you head out the door. You look good! We promise.
You're alert and refreshed. Good posture takes any outfit to the next level. If you're a sloucher by nature, practice sitting and standing up straight. And makeup, if you choose to wear it, can enhance an enthusiastic and "awake" look.
You pay attention to detail. Leave enough time before the interview to fix any stains, wrinkles, rips, or tears. If you're nervous about a last-minute coffee spill, carry stain remover with you.
You come prepared. If you put effort and thought into your wardrobe, the interviewer will see you plan to put the same effort into work for the organization. Speaking of prep, a matching bag can be the perfect touch if you need to bring along hard copies of your resume or other materials. For an interview, we'd suggest avoiding your weekend tote bag.
You're someone to respect. Wardrobe is one area where "fake it 'til you make it" can work to your advantage, especially if you don't feel confident. Dress like you know your worth. If you're at the interview stage, the organization thinks your skills are pretty valuable, so present yourself like the professional you are.
You take the opportunity seriously. Again, even if casual dress is the office norm, a polished interview outfit shows how much you respect the work they do.
What not to wear
Jeans, flip-flops, anything too revealing: you know the basics. But there are some less obvious missteps to avoid:
Anything uncomfortably ill-fitting. Shoes that pinch your feet or slacks a few sizes too big or small may distract you and keep you from doing your best.
Too much perfume or cologne. Strong scents may be distracting, or even set off someone's allergies or sensitivities.
Any eye-catching statement pieces. Personal-style additions (earrings, bracelets, cufflinks, hair accessories, etc.) can be great confidence boosters, but keep them as simple as you can.
A good rule of thumb: if you think the interviewer might remember a clothing piece or accessory long after you walk out of the room, leave it at home. You want to keep attention on your qualifications, not your outfit. While a good interview ensemble will help you out, the clothing is the backdrop—you're the star.
Did you enjoy this post? There's plenty more where this came from! Subscribe here for updates.