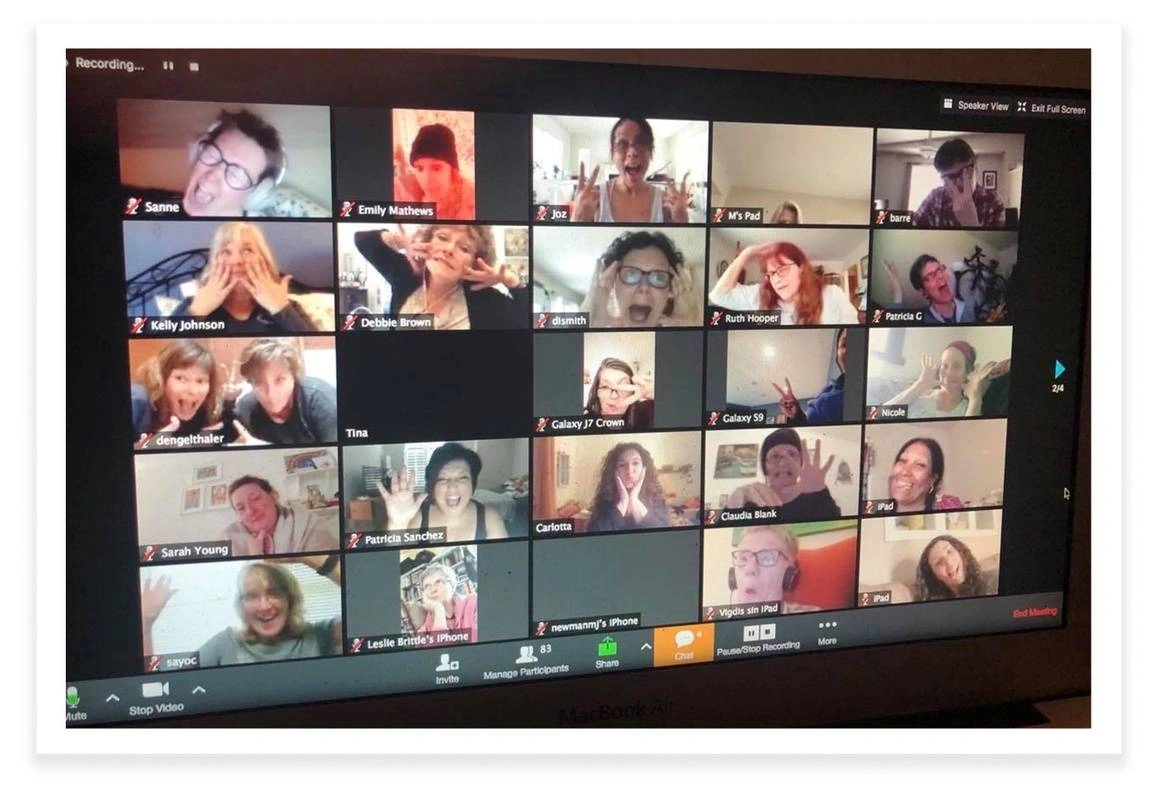 As many of us stay home and practice social distancing in order to stave off the coronavirus, we're probably going to start feeling pretty lonely. And as we physically isolate ourselves, we may ask, "How can we continue working to build a better world? How can we imagine, connect, and act when we can't really do it in person?"
Luckily, there are online communities offering up more opportunities than ever to connect, share positivity and encouragement, and do some good from home. Here are just a handful of wonderful online communities you can join right now to get things going.
Idealists of the World
The Idealists of the World Facebook group is a community of more than 44,000 members from around the globe, united under the shared values of freedom and dignity for all. Posts often include pictures and videos from Idealist Day gatherings and activities, as well as ideas for projects, uplifting quotes, and calls to action. You can post things that inspire you, ideas you have for doing good, or just some beautiful photographs to spread joy. 
The community is incredibly supportive, and many ideas and collaborations for future actions are born in the comments. Now would be a great time to jump in, introduce yourself, and make some new friends!
The Happy Broadcast
In 2018, Mauro Gatti began The Happy Broadcast Instagram account as an antidote to the anxiety he developed from a steady diet of negative news. He searches newspapers and magazines to find good news, and posts them along with colorful illustrations designed to share his newfound optimism with others. The best part of the project is that a vibrant and thriving community has developed in response, with conversations between strangers popping up in the comments.
In addition to The Happy Broadcast on Instagram, you can also check out The Good News Movement and Beautiful News Daily for uplifting content about the good things that are happening all over the world, every day.
Reddit Threads
The Reddit r/randomactsofkindness thread features inspiring stories of people everywhere doing good for one another. Posters share stories of the generosity they observe in others, offer to buy food for another member of the community who may be in need, and share opportunities for volunteering for those interested in lending a hand. 
Conspiracy of Poets
If you're more of an artsy type or looking for a way to express yourself creatively, try the Facebook group Conspiracy of Poets. Moderated by Dorothy Langlois Epstein, Conspiracy of Poets was born from a desire for friends to share the poetry they love online, as well as write their own, using the prompts that Dorothy posts for inspiration.
For a more face-to-face experience, there's also Poetry Lunch, which holds Zoom meetings for all to virtually gather, have lunch, and enjoy some poetry.
And if you're into other kinds of artwork, you can check out DeviantArt. It's a community of over 48 million artists and art lovers from around the world, sharing and interacting with everything from photography to painting to comics to poetry.
Goodreads
This hub for bookworms everywhere has everything you need to scratch that literary itch. With over 90 million members, Goodreads is a great way to find recommended reads, join virtual book clubs, read and write reviews, and track your own reading progress with a virtual bookshelf. There are also trivia games, "Ask the Author" features, and even creative writing prompts for budding writers.
With a boundless list of recommended reads and a community of readers around the globe, you'll never run out of books to dive into or great people to discuss them with.
Groove NYC
Spearheaded by founder Maria Gutierrez, Groove NYC is a New York City-based nonprofit seeking to provide a new, open style of dance to schools in communities throughout the city. In light of the current public health crisis, Maria and her fellow groovers around the world are offering virtual content for free via Groove NYC's Facebook page, including virtual grooves, watch parties, and more.
If you're stuck at home and feeling like you need to get your body moving, Groove NYC has room on its dance card for you!
Mutual Aid Networks
There's no better way to stay connected and inspired than by lending a helping hand to your neighbors. Mutual aid networks are local, volunteer-run collectives of people helping people—whether it's doing grocery runs for elderly or immunocompromised neighbors, donating cleaning supplies or face masks, volunteering at your local food bank, or just making a few friendly phone calls. No matter where you are or what your level of commitment, mutual aid networks are a great way to spend your time, connect with people in your community, and give back to those who need it.
Join or start a mutual aid group near you with Idealist's interactive map and get connected today!
That's just a small sample of online communities and ways to connect with others while doing your civic duty of social distancing. We may have to keep away from each other physically, but that doesn't mean we can't connect. Now, more than ever before, there are countless ways to share and support one another through even the most difficult times.
***
For more inspiration, our Idealists in Action newsletter is chock-full of uplifting stories and opportunities for action. Sign up today for your bi-weekly dose of good news!
Angel uses his skills as a storyteller to support and inspire job seekers and aspiring social-impact professionals.