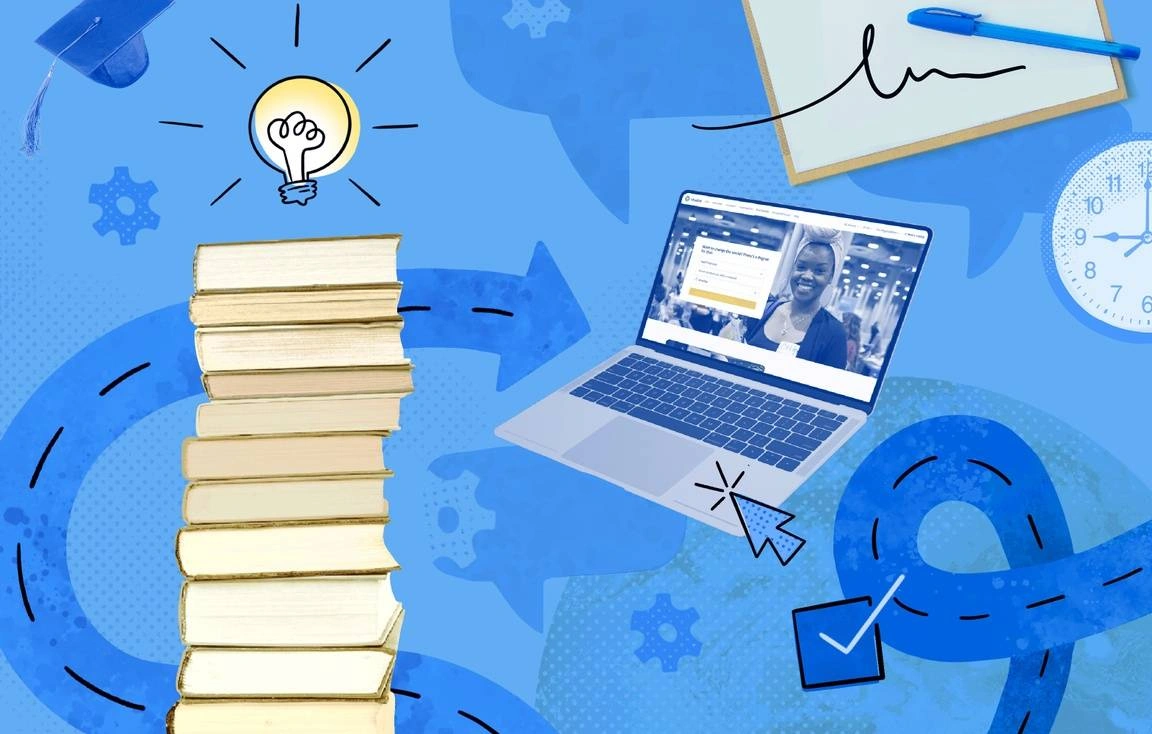 Are you interested in continuing education? Do you have a passion for pursuing a career in a social-impact field? If so, the Virtual Idealist Grad School Fairs are the perfect opportunity for you! 
Taking place virtually this coming September and October, these events give you the chance to learn about graduate programs across the social-impact spectrum, from education to international affairs, public policy, social work, and everything in-between. You'll also have the opportunity to engage in one-on-one video meetings with graduate admissions officials, who will answer any questions you might have to help you decide whether—and where—to apply.
As you gear up for the next Virtual Idealist Grad School Fair, you'll want to be as prepared as possible. Read on for a few tips to make sure you're ready.
Preparing for a Virtual Idealist Grad School Fair
Despite being online rather than in-person, the best way to treat the Virtual Idealist Grad School Fair is like a real on-campus visit; so come prepared! Here's how:
Sign up early. Ana-Cristina Medal McGrady, a career counselor at the University of Vermont, says, before you do anything, "Make sure you sign up!" Though the Virtual Idealist Grad School Fair allows attendees to register last minute, knowing you're booked in advance can help you avoid scheduling conflicts and act as a motivator to start prepping sooner rather than later.
Stay organized. At large fairs with 50 or more institutions present, there's a lot to keep track of. After registering, be sure to add the events for schools you'd like to speak with to a spreadsheet or calendar. The level of detail is up to you, but remember that having easy access to all the relevant links, materials, and questions you want answered from each program makes things much easier for you on the day of the fair.
Be ready for text-heavy virtual conversations. Most of us are used to online meetings and navigating group chats by now, but it's always smart to remind yourself of the difference between in-person meetings and virtual ones. Much more emphasis is going to be placed on typed communication during the fair, so it's important to be clear, concise, and especially cognizant of tone when you communicate. For these as well as your one-on-one video chats with admissions representatives, also remember to always remain polite and professional and to avoid distractions (such as having unnecessary apps, tabs, or windows open) during your sessions.
Do your research and prepare a list of questions
For each Virtual Idealist Grad School Fair, note which schools will be in attendance and read their profiles in the Idealist Grad School Directory as well as their websites. Try to learn as much as you can about the faculty, the structure of the program, and the curriculum. That way, you can ask pointed questions and ensure you get the answers you need to help you make a decision about enrollment.
As you draft your questions for program representatives—especially for your one-on-one meetings, think about why you're considering graduate study and how you'd like it to impact your career trajectory. While it's also okay to ask spontaneous questions on the day of, you'll want to go in knowing what you're looking to find out and how best to ask about it. Here are some key considerations to be mindful of:
Finances. Is continuing education financially feasible for you right now? Beyond financial aid, are there scholarships, teaching assistantships or other opportunities to earn supplemental income?
Time commitments. How intensive is full-time study at your desired school? Are there options for part-time enrollment? How will becoming a student affect your extracurricular responsibilities and activities?
Admissions procedures, and academic or work requirements. Is the GRE or another standardized exam required? Will you be asked to write a thesis or complete a capstone project? Are you expected to have prior academic or professional experience in the field?
Program structure and faculty members. What makes this program interesting to you? Are there any particular faculty members with whom you'd really like to do research or take classes?
What to do during and after a Virtual Idealist Grad School Fair
Once the fair begins, you'll be getting a lot of information very quickly, so be ready to absorb it all. Here are some bits of advice you can put into action to ensure you get the most out of your experience:
Get the technology right. Merida Escandon Gasbarro, Director of Graduate Program Admissions at The New School, offers a helpful reminder: "Each platform is different, so log into the fair ahead of time and get familiar with the features and layout." Make sure you'll have access to consistent WiFi and a device that allows you to communicate properly. Also, log in with your full name and an email address you regularly check. Occasionally, programs will waive application fees for fair attendees, so make sure you make yourself available to follow up with them.
Take extensive notes and have your information at the ready. Be sure to record details such as application requirements and deadlines, and especially information that can't readily be found on the school's website. Also, take advantage of your physical space by having your resume, alongside a document containing questions and a few bullet points about yourself, on your device or beside you. Having this information ready will help your interactions go more smoothly and professionally. 
Follow up with programs you resonated with. Keep track of and send a quick note of gratitude to the representatives who took the time to engage with you. If you decide to apply to their program, be sure to drop a note thanking them and highlight how their insight helped to inform your decision.
***
Planning on returning to school? Check out our Grad School Resources and connect with schools directly through Idealist. And if you're interested in attending an Idealist Grad School Fair, find out which cities near you are hosting a fair this fall.
Sheena Daree Miller is based in Brooklyn and divides her time between working in faculty development at a university and managing a black heritage center at a library. She is committed to promoting equity, with an emphasis on supporting graduating students and career changers.